Fun is always in season at Knott's Berry Farm! With dozens of rides, roller coasters, & attractions, in five themed areas, there is something for everyone! Disney's Home to many of your favourite rides with movie inspiration, baked treats and food everywhere you walk, and fun kid friendly rides.
  Knott's Berry Farm began  in 1920 as a roadside berry farm run by Walter Knott's, it wasn't until 1940 that it was established as a theme park. A couple years later Disney park was founded by Walt Disney on July 17,1955 in Anaheim California.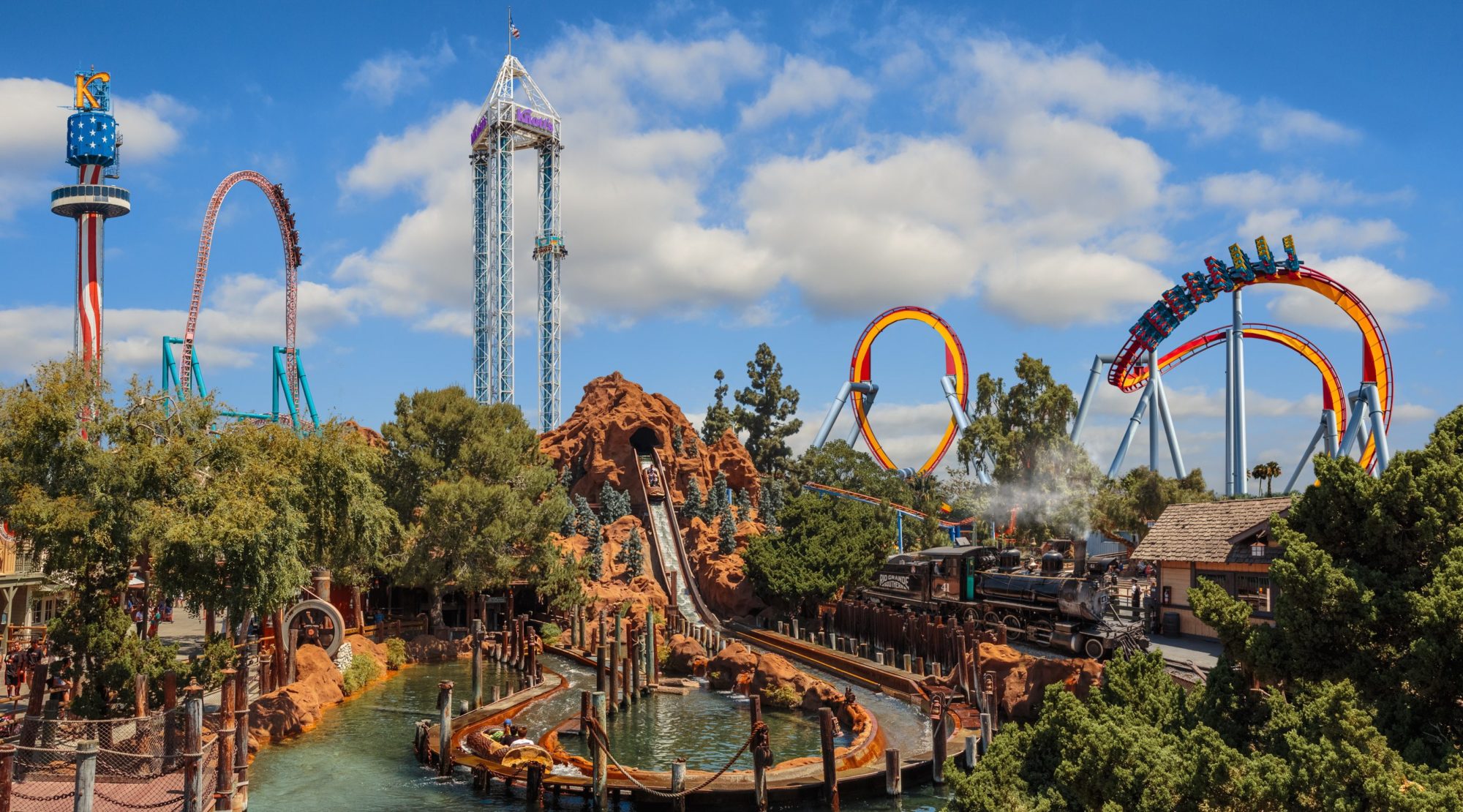 The Calico Log Ride (now called Timber Mountain Log Ride) at knotts. was the first log flume ride in the United States and this theme park's first ride.At disney The attraction  Matterhorn Bobsleds opened on June 14, 1959 and  was the first roller-coaster-style attraction at Disneyland Park—and the very first tubular steel coaster in the world. The iconic attraction is also one-of-a-kind—no other Disney park can claim a Matterhorn mountain.
   The most iconic and popular attraction at Disney Totally is  a mammoth futuristic structure, Space Mountain has always been the Magic Kingdom's most popular attraction. The theme is a space flight through dark recesses of the galaxy. Effects are superb, and the ride is the fastest and wildest in the Magic Kingdom, according to https://www.frommers.com/slideshows/819890-18-classic-disney-world-attractions. Knotts GhostRider is An absolutely relentless wooden roller coaster that reaches 55 mph over the 4,500-foot-long ride and never, ever lets up.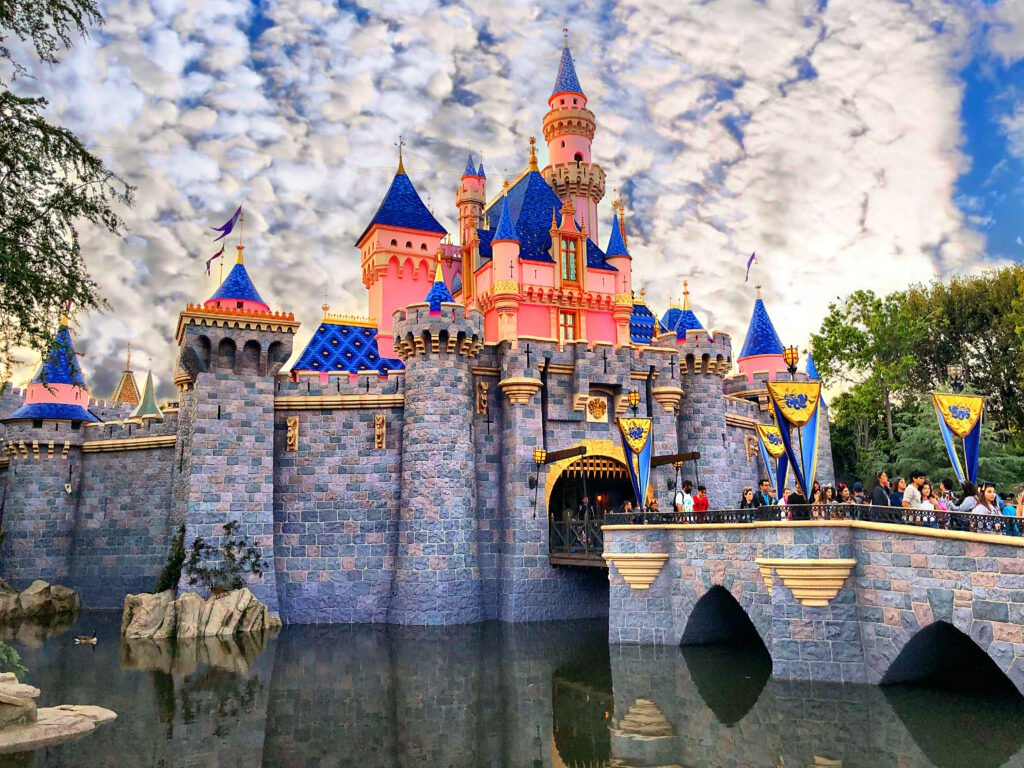 Knotts is a very popular theme park with many different  guests, they tend to get 4 million people each day.  Many Disney  fans from all over the world come to the park and  They receive around  51,000 visitors per day. Both parks' best days to visit are Tuesday-Thursday as these are typically the least crowded days. Most families have their days off on the weekends, and this is why weekends are usually the most busy at the park.
   With so many guests that come to visit these parks everyday, they need multiple staff people that take care of rides at the park or shows. Being a bigger park, Disney mainly needs approximately  223,000 employees everyday. Knotts is a smaller version park as disney but still needs quite a lot of staff over 600 employees every day. 
 You Might ask if theres has ever been any major things happen at these theme park and as you might guess there has, A guest at Knott's Berry Farm fell more than 100 feet to her death  while riding Perilous Plunge, billed by the theme park as having the steepest and highest drop of any water ride in the world. They took this ride down in 2012, in order to make way for new attractions for example Coast Rider, Surfside Gliders and Pacific Scrambler, which all opened in 2013. 
Disney has had many deaths at threre park or theme park with all crazy stories some that have happened are, On September 3, 1994, a 75-year-old man jumped to his death from a ninth-floor balcony of the Disneyland Hotel. This was the first suicide known to be committed at the Disneyland Resort.And on february 11, 2004, a Walt Disney World costumed Cast Member playing Pluto in the daily afternoon parade was run over by one of the parade floats.Javier Cruz, 38, had worked at Walt Disney World for eight years and was a father of two.
 When visiting a theme park as you might know there is always food all around you. Knotts and Disney are known to have one of the best foods with great creativity. Disney has over 15,000 different food items sold across the property, they sell 2.8 million churros at Disneyland each year and change them due to seasonal holidays.  Would you believe that Walt Disney World sells over 5 million boxes, bags, and souvenir buckets of popcorn every year and is available popcorn is the most sold item at all the theme parks, water parks, Disney resorts, and Disney Springs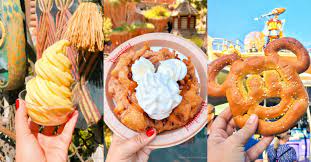 According to https://www.knotts.com/dining Before there was a theme park, Knott's was a real berry farm where the boysenberry was first successfully grown. In 1934 Mrs. Knott's Chicken Dinner Restaurant first opened with Mrs. Knott and her children serving the first customers in their tea room. The restaurant has grown over the years into one of the largest in California, but the classic fried chicken dinner is still made the same way today using Mrs. Knott's recipes. One of there most bought food at the park has to be the Loaded Funnel Cake where you can find it at  Sutter's Funnel Cake, Log Ride Funnel Cake or Ghost Town Grub. 
 Like their food Disney is known for their awesome parades and exhilarating rides that change every holiday or season, they started in 1972. Disney celebrates many holidays including Christmas, Hanukkah, Diwali, Kwanzaa and Three Kings' Day, this makes the season bright through diverse festivities and beloved seasonal traditions.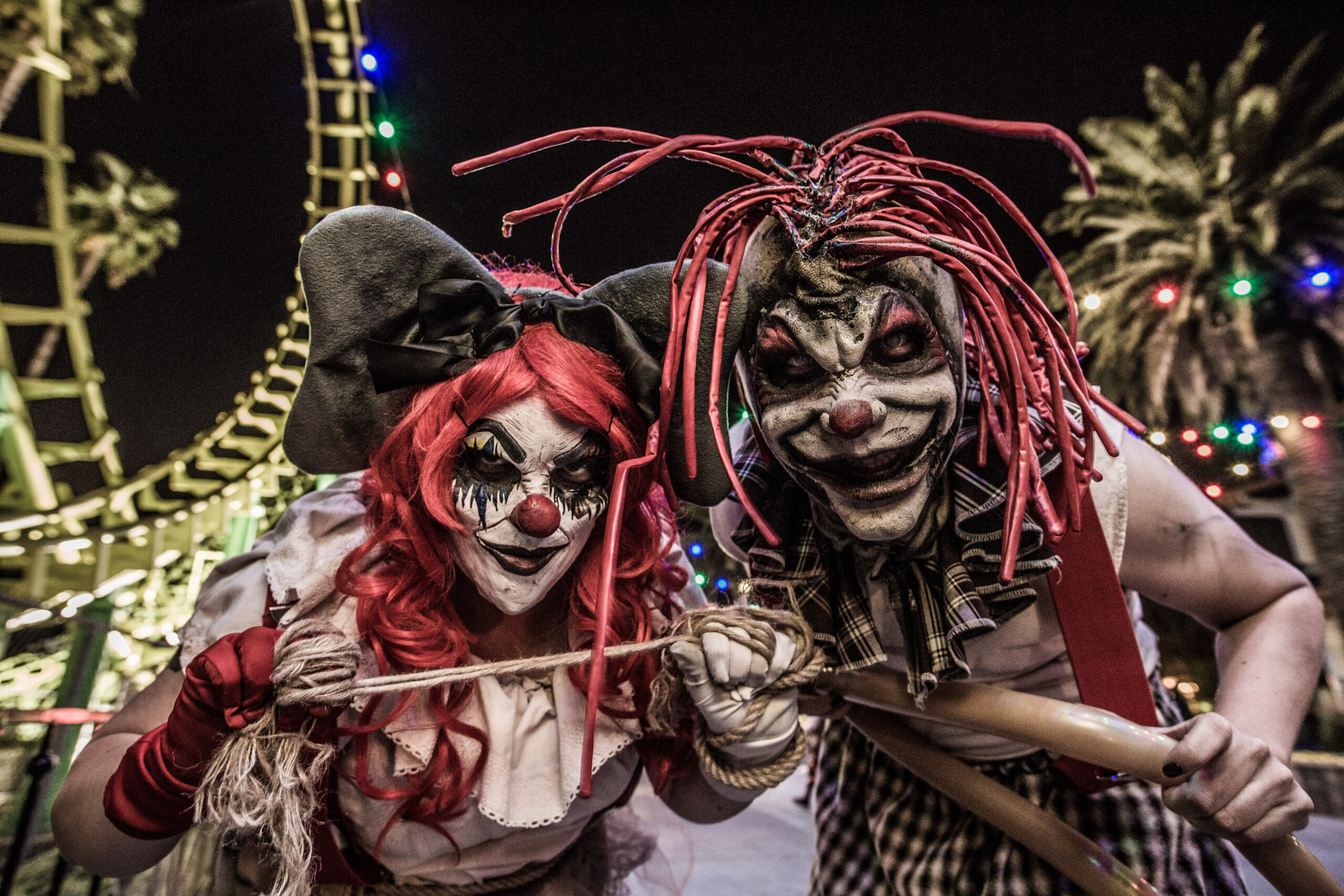 As Well as knotts berry farm they kick off its annual Seasons of Fun with the return of the Knott's PEANUTS Celebration, a special multi-weekend event uniquely dedicated to celebrating the beloved PEANUTS characters. One of the most special events at knotts is Knott's Scary Farm,  it is the largest and most haunting Halloween experience in Southern California, with unimaginable scares and innovative thrills that can't be found anywhere else. The fully transformed theme park features uniquely haunted mazes and attractions, sinister shows and more than 1,000 terrifying creatures lurking in the fog and hiding in every corner of the park. While this event happens at night during the day, Knott's Spooky Farm, a family-friendly fall time celebration. Were little kids can trick-or-treat around the town of Calico's shops and buildings to collect sweet treats from the friendly townsfolk plus enjoy even more kids' Halloween activities
   If you are thinking of visiting one of these theme parks,  you can find Knotts tickets and yearly passes on their website, the passes could be just for the park or for both waterpark and theme park. Aswell as Disney they relaunched the beloved Annual Pass program back on September 8, after a long pause during the pandemic.