The Costa Mesa Mustangs and Estancia Eagles battled it out for the bell on Friday, October 28th.
The game took place at the Estancia field and Costa Mesa students were given wristbands that allowed free admission to the game.
Estancia partnered with Chick-fil-a and sold 5 dollar chicken sandwiches to students at the snack bar.
Estancia's halftime show consisted of their small band playing music while their cheerleaders danced to it.
Near the end of the first quarter, Diego Ramirez caught a touchdown pass from Garrett Richards of 40 yards to make the score 10-14 as opposed to the previous 3-14 for an entire gain of 7 points for the Mesa Mustangs!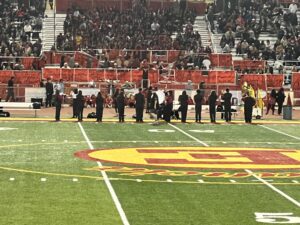 Sadly, in the remaining quarters, the Mustangs struggled to keep up with the Eagles, as the Eagles intercepted a ball intended for a Mesa touchdown in the final quarter of the 2022 Battle of the Bell Costa Mesa vs Estancia football game.
In the end, Costa Mesa took a sad defeat with an underwhelming score of 17-38.