On Thursday, October 7th, our Football team played against Calvary Chapel High School.
To show our school spirit, we threw a pep rally on October 8th, the day of Homecoming. 
As students walked into the gym, they saw green streamers, balloons, and "Back to the Future" decorations, while the Costa Mesa High School band played.   
Students were excited to see the performances happening, and they certainly didn't disappoint.
First, our amazing band performed, and afterwards we got to see the dance team do a hip hop routine!         
We also got to enjoy a show by the Color Guard team.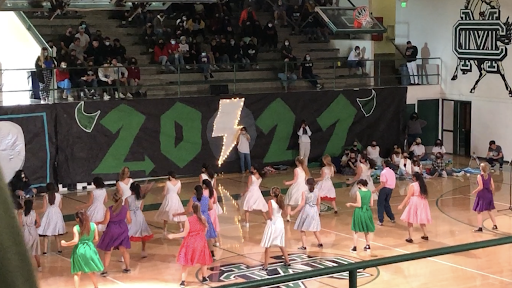 The crowd was ecstatic, with 80s music playing in the background for the "Back to the Future" theme. 
The boys' choir performed a song, and there were even a few people in the audience that turned on their phone flashlights! 
There was also a game where whoever got the most floats wins. This included the sports team captains such as Water polo, Cross Country, Football, and Golf. 
After the game, the dance team performed an act with outfits inspired by "Back to the Future." 
At the end of the pep rally we got to see the Homecoming nominations, which led us to the conclusion of the event. 
We can all say our 2021 pep rally was astonishing.