This year marks the first year with a Costa Mesa High School freshman-sophomore team. While at times it may seem they're no more than just football players, it's important to get to know the team better.
Darwin Palma
Outside Linebacker #6, Darwin Palma, says that "determination, fundamentals, and just having the heart to do what you do out there," makes a good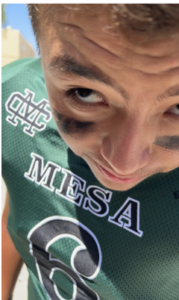 football player.
When Palma was asked what his top three players were he responded "Saburo Wase, fullback Caden Oliver, and wide receiver, Justin Hernandez".
Saburo "WaterMan" Wase 
Tailback #27, Saburo Wase, says "their mentality and good teamwork" makes a good football player.  "They gotta work hard, you know? They gotta want it." 
When Wase was asked who his top three players were, he said "Darwin Palma with his defense, Justin Hernandez for his offense, and Caden because he's just like that." 
Brody "Bones" Leonard
Receiver #5, Brody Leonard, says that football players must be "talented, hardworking".
When asked what his top 3 players on the team were, he said "Me, Justin, and wide receiver, Kitiona Fetalaiga".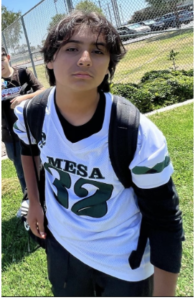 Ivan Cortes
Middle Linebacker #32, Ivan Cortes, says "You have to want to win, you can't go to a game and not have the idea or the goal of winning in your mind.".
Cortes was also asked who his top 3 players on the team were and responded "Outside linebacker Darwin Palma, offensive lineman, Aaron Parrish, and quarterback Jaden Akdeniz"; saying "they've shown the most perseverance so far".
Cortes, like many other players, has an optimistic outlook on the future of the team saying, "Our team will only get better and better over time. This rocky road is a start to a great journey for the whole team."
Photos taken by me (him)