Tyler, the Creator, is he extremely ridiculous? Yes. Is he extremely talented? Definitely. We are about to embark on the journey of controversial, genre-bending, Tyler, the Creator. With a second Grammy added to his collection, it is important we stop and take a look at how he got here. 
Upbringing
Tyler Okonma was born on March 6, 1991 in Ladera Heights, California, which is not too far from us here in Costa Mesa. Tyler Was abandoned by his father before he was born and it heavily inspired him in his art. He has made many songs about his absent father including 'Answer,' a song off of his album Wolf. He would not ever allow this to kill his creativity or happiness. He would spend lots of time skateboarding with friends growing up, as well as teaching himself instruments, designingalbum covers, and doing other things to let his creativity run wild.
Tyler reportedly switched between twelve different schools in LA and Sacramento before he graduated. Tyler has also told the story of how he was not accepted into band because of his inability to sit still and read sheet music. Now, Tyler knows how to play piano.
Odd Future
Odd Future Wolf Gang Kill Them All or OFWGKTA for short,  was a hip hop collective with many members including Tyler, the creator of the group. OF was made back in 2007 with Tyler and some of his friends (Jasper Dolphin, Hodgy, Casey Veggies, Syd, Matt Martians, and Left Brain) started the collective in Los Angeles, California. More members would join the group later on such as Earl Sweatshirt and Frank Ocean. Their logo was two donuts for​​ming the letters OF for Odd Future.
A big part of Odd Future's brand is their clothing. They sold lots of merchandise including things such as skateboards, shirts, hoodies, and even socks. In Earl Sweatshirt's 'Woah', Tyler brags about making a quarter million off of socks alone.
In 2011 and 2012 Odd Future released '12 Odd Future Songs' and 'The OF Tape Vol.2' which received horrible backlash to say the least. Tyler also released 'Yonkers' which would be his first song to have major success. The subjectmatter of the early odd future was extremely dark and was even deemed 'satanic' by some people. This would become a staple of Odd Future culture especially leading into 'Loiter Squad,' their TV show.
 The unruly, unhinged, crazynature of Odd Future created a large controversy surrounding them and the members in it and they even got banned in New Zealand. People protested outside of Tyler's house because of how much they hated Odd Future. This however, would not stop them. Odd Future would continue making music and other forms of entertainment while keeping their same, wild style.
Tyler's Music
Tyler's Music has progressed a huge amount over the years he has been making music. His first full project 'Bastard' came out during 2009 and is not on major streaming services like Spotify and Apple Music, however they do have the title track. 'Bastard' included extremely dark subject matter and is said by many to be his darkest album. Tyler touches on s*xual assault, murder, necrophilia, and more.During this time, Tyler referred to himself in his music as Wolf Haley, who was one of many of his characters. This album and 'Goblin' are both 'Wolf Haley' talking to his therapist, Doctor TC about his problems.
Tyler's second album 'Goblin,' would only be slightly lighter than the last. His 2011 album would be releasedon major streaming services as well as all of his projects going forward. Tyler touc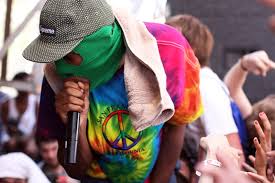 hed on similar subject matter with heavy usage of synths. This album included his controversial 'Yonkers' as well as many more successful songs such as 'She' with Frank Ocean which is still regarded by many tobe one of his best songs.
Tyler's third album 'Wolf', would be much brighter than his previous two albums. 'Bastard,' 'Goblin,' and 'Wolf' are all pieces of a puzzle as they all have the same running story going through them. Wolf Haley is a troubled kid just like Tyler and this is why he is sent to Camp Flog Gnaw, the setting of the album (Flog Gnaw being an anagram of Wolf Gang). Camp Flog Gnaw is also the name of the festival he throws annually.
Tyler's 4th album, "Cherry Bomb", is unfortunately widely regarded to be his worst album. This album was very different for him with lots of "singy" songs and heavy guitars and synths with the title track being a rock track. Tyler ditched all of his alter-egos and was just Tyler.
Tyler's 5th album, "Flower Boy", was his biggest change in sound yet. This album has fourteen tracks withonlythree predominantly rap songs. This was his first extremely successful album and was even nominated for a Grammy. Tyler had a softer approach in this album with lots of chords and guitars, but didn't ditch the synths yet with tracks like "Garden Shed." On the topic of 'Garden Shed,' this album is where Tyler fully embraced his sexuality.
Tyler's 6th album, 'Igor' was his most successful album so far. This album won him his first Grammy for Best Rap Album despite the fact that 'Igor' is not a rap album. This R&B album featured heavy synths with an 80's like feel on some of the songs such as 'I Think' or 'Earfquake.' This album is a story about Igor, who falls in love with another man whois in a relationship with a woman. Igor goes through lots of intense emotions with 'New Magic Wand' being about him threatening to kill the woman and the man.
Tyler's 7th album, 'Call Me if You Get Lost,' is his most recent one so far. This album earned him another well deserved Grammy. CMIYGL was another story driven album, but this one had predominantly more rap tracks with many unexpected features such as NBA Youngboy on 'Wusyaname' and Lil Uzi Vert on 'Juggernaut.' This album is about Tyler or Sir Baudelaire, who has everything he could possibly ask for until he meets a girl that one of his friends is seeing. This leads into a huge mess with nobody winning in the end.
Tyler now
It goes without saying that Tyler has been extremely successful so far in his career. He has started producing his own nail polish and perfume under his brand Golf le Fleur and is still very successful from the clothes he made earlier in his career.
So far he has stayed true to his schedule of dropping new music everytwo years and he will hopefully continue to do so.